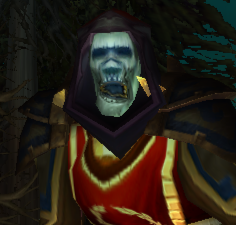 I've posted a three part audio series of Robert Ecksteen, a.k.a. BobX, the undead mage from World of Warcraft. Some of you may say, "How sad and pathetic are you Tom, that you created a fake three-part recording of the memoirs for a World of Warcraft character, complete with bad WoW jokes and the theme from Undercity?" To which I can only reply, "very." And then hit you with a frost bolt, cast mirror and take you down like a level 30 Murloc. How you feel now, snide dead WoW-mocker?
Ahem.
The three part series.
Part one: Birth to scourge invasion.
Part two: Life as a ghoul.
Part three: Reborn as undead.
2 Responses
AIE_Varendeth Says:
June 22nd, 2009 at 11:52 pm

Sounds like Bobx has had a pretty productive life, and unlife I guess, although it's unfortunate that Bob and Lauren Newcomb end up where they do. I really enjoyed listening to your backstory, and it gave me some ideas for my own that I plan to do at some point.

LadyLock Says:
July 5th, 2009 at 11:35 pm

Tom, I loved your BobX Trilogy. BobX sounds a lot like a blood elf warlock I know – a misunderstood magic addict whose life was turned upside down by the Scourge. But regardless of being an outcast to the other elven races, she's just trying to make Azeroth a better place too.
Thanks for sharing and keep us posted about BobX!
Leave a Comment