SuBBrilliant News Archives- January 1998
---
Past Articles of SuBBrilliant News for the month of January 1998 are collected here for your convenience.
Most images have been removed to prevent itching and burning.
Netscape (and MSIE) User's- use 'Find' from the 'Edit' menu to search the page.
Front Page | Internet | About SuBBrilliant | Past Issues | Chat

---
Immune Disorder Cause Found
Deficiency A Psycho-circulatory Problem
Thu, 29 Jan 1998 23:09:28 GMT
Story from SBN / Ace Dtect
Copyright 1998 bySuBBrilliant News
---

BETHESDA, 29-JAN-1998 (SBN) A team of US Navy Doctors and Psychiatrists have pinpointed the cause of 60 percent of immune disorders but still aren't sure how to treat it.

"Basically, in layman's terms, you're blood cells become pacifists. They begin to believe in the solidarity of all unicellular organisms and lay down their phages, proclaiming that there is room enough in the circulatory system for all of God's one-celled creatures," said Dr. Dolores Rafsthanjani

However, when 'peacenik' blood cells unilaterally disarm, many bacteriae take the opportunity to strike a weakened opponent.

"While the white cells are crying, 'let's all live as one' the bacteriae are secretly building up stockpiles of Viruses and Toxins," said Rafsthanjani.

Therapy involves retraining the circulatory system in the doctrine of 'peace through strength.' The patient is also exposed to sever military slogans such as, 'the way to insure peace is to prepare for war.'

"Once we've made the bloodstream aware that the bacteriae are not bargaining in good faith, they come to understand the realpolitik of the circulatory system," said Rafsthanjani.

Patients response to therapy is still inconclusive but all patients have reported a cessation to their decline.

"Hopefully," remarks Rafsthanjani looking at a room of test patients,"The white cells haven't degraded to the point where they are not fit to serve. If that is the case I don't know what we'll do."
Home | Info | Forum[Return to Main Archives Page] [January Contents]
Last Supper Wasn't Last
Biblical Scholars Debate Meaning of Snack
Tue, 27 Jan. 1998 18:11:33 GMT
Story from SBN / Ace Dtect
Copyright 1998 bySuBBrilliant News
---

MEVO BETTAR, 27-JAN-1998 (SBN) In a mound of old scrolls thought to be marginally interesting accounts of a first century caterer, archaeologists have uncovered a biblical treasure to rival the Dead Sea Scrolls and the Turin Shroud.

What biblical scholars are calling 'the catering scrolls' provide a rich account of deliveries and receipts for a first century cook named Simon the Cook.

When archaeologists discovered the scrolls, they were immediately sent to Aramaic scholars.

"We thought we were dealing with one of those 'look into what daily life was like' sorts of things but then we found something fascinating," said Aramaic Scholar Ben Ypres-vous.

That something was a double entry for the night of Thursday March 22, 4 CE which detailed the accounts of a wine and bread dinner for 13 at a second story apartment. What astounded the scholars was the second entry for later that night which detailed a rushed delivery of bread and melted cheese to Yeshua beth Nazareth at Gethsemane Gardens.

Some of the scholars think this is a second late night supper delivery to Jesus Christ. If true, this could shake the foundations of the Christian Church and cause a re-appraisal of the sacred mass.

Academics are re-examining the claims of Dr. Charlie Crozone of Italy who claimed to have translated a manuscript found in the catacombs which described the use of cheese in the Sacred Mass.

A paper on the 'catering scrolls' will be published this week in 'Science'.


---
Home | Info | Forum[Return to Main Archives Page] [January Contents]
Germans Market Jeez-Cheez
Claim Based On 'Caterers Scrolls' Cheese
Tue, 27 Jan 1998 18:23:43 GMT
Story from SBN / Ace Dtect
Copyright 1998 bySuBBrilliant News
---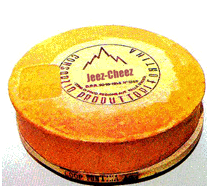 MEVO BETTAR, 27-JAN-1998 (SBN) A German cheese consortium has jumped at the chance to be the first to capitalize on the 'caterer's scrolls' find.

'Jeez-Cheez' Will premiere Monday, 2 February in Europe and 9 February in the US and Canada.

The cheese manufacturer announced that their cheese is "as close as possible to the cheese Jesus himself ate in his last snack. A cheese to die for."

Scholars scoff at the claim saying no one has any idea what kind of cheese the Christian saviour might have eaten. However the Jeez-Cheez press release explained that the manufacturer had obtained copies of the 'caterer's scrolls' and had derived the ingredients for 'caterer's cheese' from the inventory and order accounts listed in the scrolls. Combined with historical research on cows, milking and curding at the time of Christ, the German Company claims to make "a 90% similar cheese."

Plans are also in the works for Jeeza-Pizza, Jesoufflè and Christeroni and Cheese.


---
Home | Info | Forum
[Return to Main Archives Page] [January Contents]
Canada Still Without Power
Experts Say Should Have Joined in Rebellion
Fri, 23 Jan 1998 21:34:26 GMT
Story from SBN / Ace Dtect
Copyright 1998 bySuBBrilliant News
---

OTTAWA, Jan 23 (SBN) After over 200 years, Canada is still without power. Experts agree that joining the colonial rebellian of the late 18th century proved to be the downfall of the only other viable North American heavyweight besides the USA®.

Although the country finally gained true independence from Great Britain in the 1980's, Canada still has no real power from Vancouver to Prince Edward's Island.

"the light's is on but , uh, you know, nobody's there," said one Saskatoon resident when asked about Canada's lack of power. "But I guess there aren't any lights either, you know, if like, there's no power and stuff, eh?"

Although Canada has made some cultural inroads, sending Hockey penetrating as far as Texas and attacking America with Rush, Paul Schaeffer and Peter Jennings, they are still more apt to die for UN or US interests before their own.

No one knows when power will be restored and residents are still hanging in there, remembering the glory days of French Fur Trappers and the defeat of the English in the Northwest Territories.

---

Home | Info | Forum[Return to Main Archives Page] [January Contents]
Drug War Ends!
Mon, 19 Jan 1998 19:28:55 GMT
Story from SBN / Tyedye
Copyright 1998 bySuBBrilliant News
---

WASHINGTON, Jan 19 (SBN) The long and very costly War On Drugs ended in victory yesterday with the unconditional surrender of drug manufacturers, traffickers, users and abusers nationwide. Millions of American citizens turned themselves in to local law enforcement authorities along with an estimated 3,842,000 tons of illegal contraband and drug paraphernalia. Tens of millions more sent confessions by mail (to be processed later), promising to appear in court Monday.

---
The Sobering of America
Washington, DC, Jan. 12 (SBN) Since the vanquishing of the losers of the drug war, violent crime has decreased 9,028% in the 24 hours following the mass surrender. Suicide attempts were non-existent, and may now be a thing of the past.

Incidents of random acts of kindness, charity and tolerance are up 24,006%, while Americans nationwide embraced a new era of brotherhood and self-acceptance.
Many God fearing Christians have converted to Buddhism, Taoism and popular New Age philosophies to learn relaxation and meditation techniques, making a clean break from all their addictions; religious, drug, or otherwise.
Said Washington, DC Mayor Marion Barry, "Millions of people are facing reality for the first time, and discovering that there was never anything they needed to escape from to begin with."

After the recent arrest, conviction and crucifixion of Drug Lord and Philanthropist Jesus Gomez, morale among drug industry employees and consumers had dropped dramatically.
Then, in a striking blow to the supply of illicit drugs, The US contracted to purchase all of the cocaine and marijuana Colombian suppliers could manufacture at a bulk discount, in a successful bid to keep it off American streets.
The Madison Avenue advertising firm of Hyperboll and Bamboozal was employed by the US Government to educate the shit out of children by any means possible, preferably using lies, deceit, and scare tactics. The 37 billion dollar Ad campaign was quite effective. According to government statistics, illegal drug use declined last month by 78%.
Seizing their opportunity, the United States Department of Justice instituted an amnesty program for those who confessed and traded in their drugs for a clean, wholesome lifestyle.
In an effort to aid the nation's withdrawal symptoms, the government has been freely distributing survival packets via the Red Cross, consisting of "The Tranquil Sounds Of Nature" cassette tape, a 3,000 piece jigsaw puzzle and Tylenol #3 gelcaps.
Said US Drug Czar Mohammed Hussain, "The drug scourge that has been permeating our culture and contaminating the essence of our precious bodily fluids is now over. With the total capitulation of enemy forces, we can now devote our country's vast resources to ridding America of other lifestyle defects that can pollute human consciousness."
President Clinton has announced that money previously earmarked for the War On Drugs would now be diverted to the newly declared War Against Immoral and Unsavory Sexual Activities. Clinton named the Reverend Pat Robertson to the post of US Sex Czar.
With Hollywood celebrities Charlie Sheen and Christian Slater acting as Master of Ceremonies, a ticker tape parade to honor surviving hero's of the Drug War will be televised from New York City later this week. Elton John will be on hand to perform a new tuneful eulogy in memory of the fallen warriors from both sides of the conflict.

---
Home | Info | Forum
[Return to Main Archives Page] [January Contents]

Young Man Drowns While Thinking
Goes Too Deep In Thought Without Preserver
Fri, 16 Jan 1998 11:55:55 GMT
Story from SBN / Ace Dtect
Copyright 1998 bySuBBrilliant News
---

LONDON, Jan 16 (SBN) After becoming lost in thought, 24 year old Avery Streshmuck found him self deep in thought and drowned according to British Museum officials.

"One could see that the young gent pouring over a Joyce manuscript of some sort or another was clearly lost in thought but before we knew it the chap was gasping for breath and we noticed he did not have a brain preserver," said Museum Guard Ian Blunt.

Stanley Fedgewick, MP-BRISTOL, has already announced his intention to push for a law requiring all museum goers in England and Scotland to be issued brain preservers before being allowed into exhibits.

"My staff and I feel that it is of utmost importance and in the best interests of the country as well as her majesty's government to take steps which if not taken and we do know the importance of studying this closely however we will not stand for this kind of mal-treatment of our young who are the future of this great nation," said Fedgewick while walking in front of an on-coming Swansea bound coach.

A memorial service for Mr. Fedgewick will be held shortly after Mr. Streshmuck's in St. James Cathedral.

Meanwhile, British museum officials have placed warning signs reading, 'Think at Your Own Risk - No Thought Guard on duty' At the entrances to the main museum, reading room and lavatories.


[Return to Main Archives Page] [Info - About SBN] [News] [January Contents]
Dark Resurrection Complete
SBN Reporter Not Dead, Just Resting
Wed, 14 Jan 1998 18:20:55 GMT
Story from SBN / Tyedye
Copyright 1998 bySuBBrilliant News
---

HOLLYWOOD, Jan 14 (SBN) The corpse of SuBBrilliant Reporter Tom Dark was recovered yesterday, found concealed inside an unmarked dumpster in an alley behind a MAD TV Executive's posh Brentwood Home. During his autopsy by a team of Medical Examiners, it was determined that Dark was still alive, not deceased as previously reported by the press.

Dark, clearly disoriented from his ordeal, immediately began channeling a medley of Chris Farley, Michael Kennedy and Sonny Bono, singing "I Got You Babe" in a characteristic Massachusetts accent while doing cartwheels out the morgue front door.

A photograph taken at Dark's resurrection by a well-prepared coroner has already appeared on the cover of People magazine and the National Enquirer, among others. Sporting a tie-dyed Speedo, he also shared the cover of Sports Illustrated's annual swimsuit edition with Christy Brinkley.

Dark has been busy since his re-emergence; he signed autographs at an Elton John concert, even though no one recognized him or asked for his signature; he sang a duet onstage with Jimmy Buffett at a Save The Parrots Rally; he caroused with blonde Hollywood starlets just before accepting a Grammy on behalf of the The Spice Girls at a televised music awards ceremony; then narrowly escaped a school of Paparazzi and FBI Agents on his supercharged Moped.

Dark has become rather easy to spot now that he has taken to wearing a modified Karate Gi emblazoned with sequins and his initials, and sporting a white glove on his left hand. He has already been approached by Kathy Lee Gifford to co-sponsor a new fashion line that will employ young children in sweatshop conditions.

At a press conference yesterday, Dark furthered his self-commercialization by announcing that he has sold his story to a major Hollywood studio. Walter Matthau was originally slated to portray Dark in the flick, but Dark is insisting upon starring in it himself. The movie is expected to be produced as a musical docu-Drama. A title has yet to be chosen. Phyllis Diller has been signed to play Doris Peepoles, (aka AceDtect), publisher of SuBBrilliant News. Casting the part of Tyrone Dye has been more difficult, whose part remains a tossup between Brad Pitt and Gene Wilder, depending upon which one can carry a tune.

Said Dr. Eric Christenson, Professor of Religion at the Sally Struthers Holistic Home Correspondence School, "Tom Dark has sold out. Historically, Messiahs just don't seem to be content in their anonymity. They always appear to evolve into egregious egotists and develop addictions to fame and fortune. Dark is a textbook example of a savior in distress. He's totally out of control. Someone should complain to the Messiah's Union. [Union of Socializing Republican Messiah's, Local 404]"

Asked how he escaped the Halloween siege at his Palatial West Point Estate, Dark remained secretive. "Who said I was ever even there? Do you overambitious peanut-media despots believe everything you read, or write? The reports of my death have been greatly exaggerated... man, I've always wanted to say that!"

Hounded by reporter's questions; "How does it feel being a Messiah?", "How will you save the world?", "Will you build a church and start your own religion?", Dark was evasive. Stating only his intent to tour on the Big Time Wrestling circuit as "The Salacious Saviour", using his enhanced breast implants as weapons and extending his tin foil beanie to cover his face - the mask being more symbolic rather than to hide his identity. "Kids need better role models, someone colorful, who can turn a phrase and also execute an eye-gouging turn-buckle high impact appendix slam" said Dark; "Besides, the World Wrestling Federation (WWF) is full of Brobdingnagian invaders."

Dark's wife Justine, who had recently returned from a vacation in Toledo, Ohio, to marry local Calaveras County Sheriff Dennis Downum said, "Oh Shit. Do I have to refund the life insurance money?"

SuBBrilliant News assumes Dark's Snippy Column Fans are elated at his return, but after many phone calls and a national advertisement soliciting his fans, this reporter could find none to verify that assumption.

With Paparazzi and FBI Agents surrounding his podium, Dark distracted them momentarily with a well aimed Idaho Potato, ending his press conference by escaping through the crowd.

He immediately relocated to an as yet unspecified country, one with internet access and no extradition treaty with the US. Tyrone Dye E.S.U.H. (aka Tyedye)

[Return to Main Archives Page] [Info - About SBN] [News] [January Contents]
US Forms Partnership With Colombian Cocaine Suppliers
Looking for Deals On Marjuana and Opium
Tue, 13 Jan 1998 17:24:55 GMT
Story from SBN / Tyedye
Copyright 1998 bySuBBrilliant News
---

WASHINGTON, Jan 13 (SBN)The United States said Tuesday it has bought 382,021 tons of cocaine from Colombian drug manufacturers at an un-disclosed cost, and shipped it all to America in order to keep it away from "rogue users."

US Drug Czar Mohammed Hussain told reporters that drug wholesalers and retailers had sought to spread the illegal drugs to users and abusers nationwide. It is now safely and securely in the hands of the CIA.

The US has now successfully contracted to purchase all the cocaine Colombians can manufacture in the future at a bulk discount. Negotiations for Columbia's future marijuana supply and Afghanistan's opium crops are currently underway.

When asked what the Government would now do with its huge cocaine stockpile, Hussain suggested that if it is not destroyed, it may be held in reserve as a bargaining tool in case Actors Charlie Sheen and Christian Slater ever "go off the wagon, flip out and take hostages."

Others speculate that the CIA intends to contaminate the water supply of fast food chain employees, in the Clinton Administration's effort to improve their performance and speed up drive through service nationwide.

[Return to Main Archives Page] [Info - About SBN] [News] [January Contents]
Capital Punishment Slowed
New Rules Make Death Last Up To 50% Longer
Wed, 7 Jan 1998 16:24:55 GMT
Story from SBN / Ace Dtect
Copyright 1998 bySuBBrilliant News
---

WASHINGTON, Jan 6 (SBN) A New Law To Be Approved By Congress will make executions in the United States last up to 50% longer with whiter teeth and fresher breath.

"No one wants a smelly corpse," said bill's sponsor representative Sonny Bono through a medium. "And we will not allow this 'merciful death' bleeding heart crap go on any longer. Why do we kill people? Out of venegance. The Death Penalty doesn't deter any more or less than any other kind of punishment. When an attorney asks for the death penalty and isn't awarded what does he say? That this will mean more crimes? No. He says something about how the victims are upset.

"Therefore we WANT and NEED a bill that will provide the victims with the most satisfaction. Now if you'll excuse me I have a lunch date with satan and Michael Kennedy."

The new bill allows for increased use of mouthwash and teeth whiteners for death row inmates and provides an open ended allowance for execution time. Rather than lethal injection, death penalties will be required to have more outward showing of pain and torture with moaning to last no less than 30 minutes.

A rider to the bill would allow dead congressmen to carry out their duties through psychic means but would not allow them to run for re-election.


[Return to Main Archives Page] [Info - About SBN] [News] [January Contents]

Stocks Take Sharp Drop
Locks and Barrells also in trouble
Tue, 6 Jan 1998 15:23:53 GMT
Story from SBN / Ace Dtect
Copyright 1998 bySuBBrilliant News
---
TOKYO, Jan 6 (SBN) - Taking something 'lock, stock and barrell isn't such a good idea anymore according to Japanese Analyst Wiki Ricardowa.
"Dese stocks are inna very bad place now, see? And if the stocks stay layin low like, den dere's gonna be trouble cuz the locks and barrels 'll fall right in wit' 'em," said Ricardowa in a private interview.
Sales of stocks are not expected to affect other related markets outside the barrell and lock areas. Stock in trade was down 40% at close yesterday causing some to take stock in themselves out of sympathy.
Many stocks were found as low as 30 feet underwater where American investors had "dumped" them. Japanese market officials are unhappy at the practice but claim there's nothing technically illegal about it.
Fisherman "Bugs" Mirowati complained that some of the stock dumping was beginning to pollute the waters in and around the harbour where he fishes. "Catching fish is my stock in trade," said Mirowati, "If I can't fish I can't eat, see? Djoo gotta do sumpin' about all dese stock dumpers. Dey're ruinin' duh waters."
Analysts are hoping that a fencing boom in Ireland may cause stock to rise but aren't hopeful as most of the fencing is being done with stone or wire.

---
[Return to Main Archives Page] [Info - About SBN] [News] [January Contents]