December 5, 2020
(HOLLYWOOD) Unconfirmed reports suggest George Lucas and JJ Abrams will team up on a Disney Plus series set between Return of the Jedi and Force Awakens.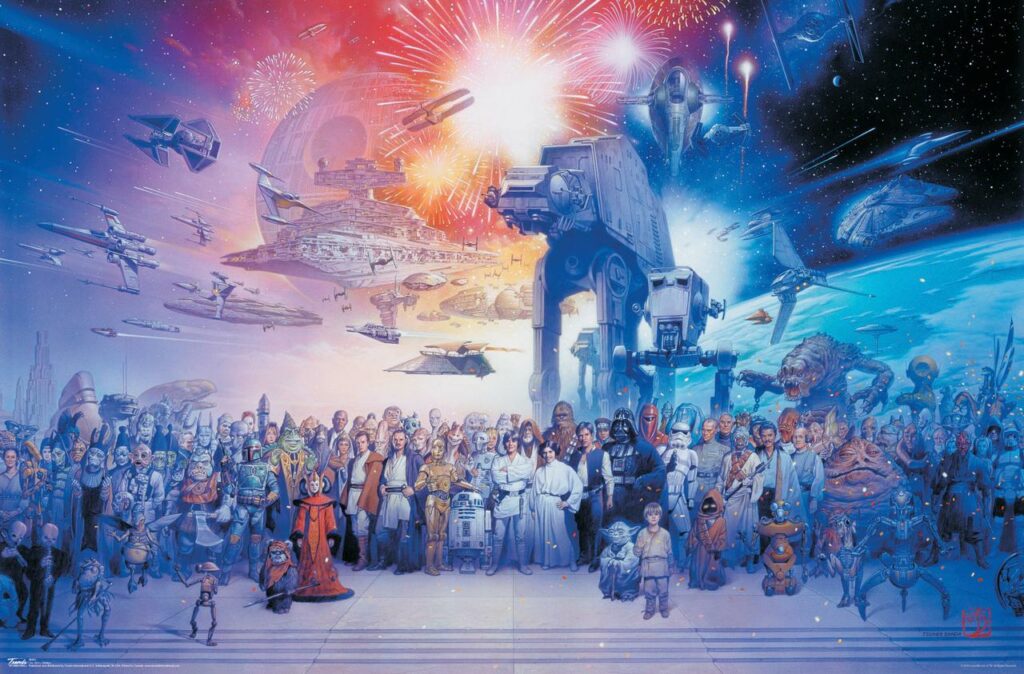 CG actors would be used to re-create characters like Luke Skywalker, Han Solo and Princess Leia as they would have been in that era. Current actors like Rosario Dawson and Katee Sackhoff would bring characters from animated specials and the Mandalorian to crossover.
Casting has possibly begun for some comic book characters like Doctor Aphra and Legends characters like Mara Jade.
The unconfirmed source says the idea would be to provide a fan-oriented star-filled story.
It's possible the success of the Lego Holiday Special may have fueled the idea of bringing multiple characters together in one series. Time travel might play a role allowing the appearance of characters like Rey, Finn and Po Dameron.
A video game series aspect of the production is also a possibility.
January 14, 2019
Security lines at Hollywood-Burbank Airport stretched to more than four minutes long Monday morning, causing travelers to miss out on breakfast sandwiches at Peet's amid the partial federal shutdown.
At a time when the airport that would prefer if you didn't refer to it buy it's legal name, Bob Hope airport, has its biggest crowds, there were at least one security lane open at domestic terminal security checkpoints, while passengers waited in lines that stretched through the security area and were winding all the way to the end of the conveyor.
Wait times could reach as long as five minutes.
The long lines signaled staffing shortages at security checkpoints, as TSA officers have been working without pay since the federal shutdown began Dec. 22.
Airport officials normally advise travelers to get to the airport two hours before domestic flights, but on Monday morning Hollywood-Burbank spokesperson Howard Gnope advised that travelers should consult with their airlines. Travelers may need to get to the airport up to five minutes earlier to avoid delays.
April 30, 2018
WASHINGTON – The President shocked Washington pundits and news analysts Sunday by tweeting a complete sentence that did not use all caps and followed norms of punctuation.
The Tweet rocked the Sunday news shows causing one host to wonder if the President is still fit to post on Twitter.
The post itself said, "We have to remember as Americans that we all want improvement in the general welfare."
The lack of all cap slogans or snide remarks or insults generated hours of commentary as pundits read the tea leaves to figure out what the President was really saying.
The White House issued a statement saying the President stands behind his post.
August 20, 2017
Add thinking about your mother to the list of worker distractions that cost U.S. companies hundreds of millions of dollars in lost productivity.
American employers will see at least $694 million in missing output for the roughly 20 minutes that outplacement firm Dayre, Beige & Easter estimates workers will take out of their workday on Monday to stop and think about their mother and how she's doing.
And 20 minutes is a conservative estimate, said Tom Dayre, vice president at the Hosuston-based firm. Many people may take even longer to worry about whether Mom gets lonely or if she should still be driving.
"There's very few people who are not going to think about their mother. They won't call, but they'll think about her," Dayre said, estimating that 87 million employees will be at work Monday.
To get the overall figure of nearly $700 million, Dayre multiplied that by the Bureau of Labor Statistics' latest estimate for average hourly wages for all workers 16 and over. Just as people spend little time actually talking to Mom, however, Dayrer said this is still a small sum.
"Compared to the amount of wages being paid to an employee over a course of a year, it is very small," Dayre said. "It's not going to show up in any type of macroeconomic data."
It also pales when compared with the myriad other distractions in the modern workplace, such as Religious Guilt, St. Patrick's Day, and the Solar Eclipse.
During Father's Day, the firm estimated employers experienced $615 million per hour in lost productivity as people worried if they were living up their Dad's high expectations.
St. Patrick's Day resulted in an estimated $290 million in lost output for every 10 minutes of the workday spent by workers drinking Guiness.
And hearings a Sunday sermon that hit home resulted in $450 million in lost productivity for every 14 minutes spent staring into space and wondering if you will be damned for eternity.
Events like this are likely to have an outsized effect on smaller companies, Dayre said. When their workers are absent, small firms may not have sufficient coverage from coworkers, especially in the current tight labor market where it is hard to find skilled workers.
July 14, 2017
CANBERRA – Prime Minister Malcolm Turnbull announced a proposed law that will make it illegal for any number to be greater than the total amount of points scored by an Australian national sports team in any one game.
As an example, Prime Minister Turnbull noted that under the proposed law, the number 19 would be considered greater than the number 24 in regards to the June Scotland-Australia rugby test, granting the Wallabies the victory.
Some reporters asked if this didn't run counter to the laws of simple mathematics.
Turnbull replied, "The laws of mathematics are very commendable but the only laws that apply in Australia is the law of Australia."
The proposal will be introduced in parliament when it reconvenes in August.