December 5, 2020
(HOLLYWOOD) Unconfirmed reports suggest George Lucas and JJ Abrams will team up on a Disney Plus series set between Return of the Jedi and Force Awakens.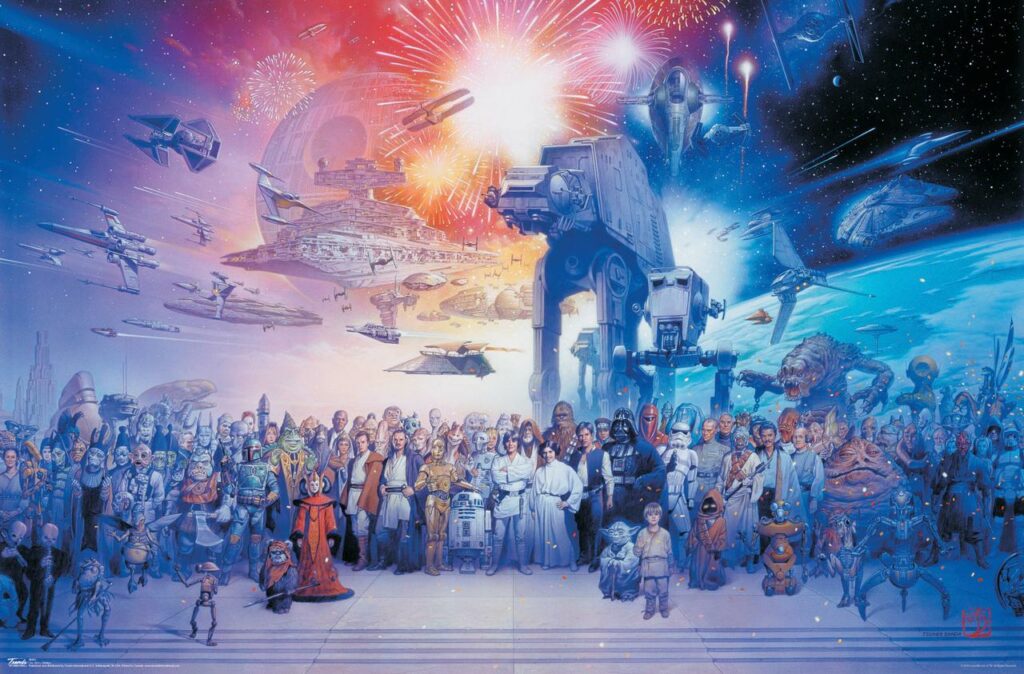 CG actors would be used to re-create characters like Luke Skywalker, Han Solo and Princess Leia as they would have been in that era. Current actors like Rosario Dawson and Katee Sackhoff would bring characters from animated specials and the Mandalorian to crossover.
Casting has possibly begun for some comic book characters like Doctor Aphra and Legends characters like Mara Jade.
The unconfirmed source says the idea would be to provide a fan-oriented star-filled story.
It's possible the success of the Lego Holiday Special may have fueled the idea of bringing multiple characters together in one series. Time travel might play a role allowing the appearance of characters like Rey, Finn and Po Dameron.
A video game series aspect of the production is also a possibility.
April 1, 2010
Executive producers Damon Lindeloff and Carlton Cuse broke down in tears on their Official Lost podcast yesterday, admitting to the fans that they have no idea how to wrap up the mysteries of the island or any of the characters on the hit ABC show.
"We've been making it all up as we go along," bemoaned Cuse. "There was never a plan. There were never even writers. We made up those guys too and hired out-of-work actors to play them."
Lindeloff then described how J. J. Abrams had fed them the initial mysteries of the pilot and told them not to worry about wrapping up the show or answering any mysteries. "He thought we'd get canceled after a few years anyway and we could just blame ABC for the lingering questions."
When that didn't happen, Cuse and Lindeloff lobbied ABC to agree to a limit to the seasons.
"We knew we couldn't pull this off forever," said Cuse. "We figured setting a deadline would force us to come up with answers."
"But it's not working," said Lindeloff. "We've started writing the final episode and so far all we've done is invent 5 new characters and create a new device called orthogonal flashes. We're in panic mode."
Some fans have suggested crowdsourcing the idea.
"They could just pick some of the more plausible workable theories form Lostpedia," said jjsonick on a fan discussion forum. "It'd make about as much sense as what they've done so far."
January 20, 2010

(WASHINGTON, DC) After a 6-month investigative process, officials at the SEC and the Department of Justice are expected to announce today their decision to recommend breaking up the Ryan Seacrest monopoly. A leak of the document shows the DoJ will claim that Seacrest, "has formed an anticompetitive cabal that threatens to corner the market of beloved host spots, leaving no room for free market competition."
The investigation began last summer, when several up-and-coming TV hosts joined together to petition the government to break up the Seacrest monopoly.
Their statement then read, "From Standard Oil, to AT&T, to today Seacrest, monopolies have tried to stand in the way of American freedom. we call on the trust-busters in our government to stop the latest threat to our way of life."
The investigation will reveal a staggering amount of consolidation according to one insider.
"When Seacrest consolidated his position as host of American Idol, many people just praised his success.  Then he took on Dick Clark's spot on New Year's Eve.  Then Casey Casem's chair on American Top 40, and Rick Dees morning show on LA radio. That's when the pattern began to emerge. Now he has moved into red carpet territory. There's no sign of stopping."
The most recent and most damning evidence the investigation considered, was Seacrest's moves into guest hosting and co-hosting Larry King Live.
"Should Larry King and Dick Clark die, our country would be left under the iron grip of Ryan Seacrest.  Only late night television would be spared.  And with the state of that industry where it is, I can't believe it will be long before Seacrest makes his move there too."
The report will recommend breaking up the television personality into three separate Ryan Seacrests.  One for radio, one for TV, and one for special events.
"If we are to continue to build a resource of sparkling male presenters for the future, the Seacrest monopoly must end and it must end now," said our insider.
May 18, 2009
Step aside Twitter, Facebook and MySpace. Liffr, is the latest new hot website to catch the attention of the digerati.
The site seems simple on first visit. A dark black background greets you with one simple space for text and the question "What did your life mean?"
You have 141 characters (one more than Twitter) to sum up your entire life. Rabbi Rafael Lowe explained the startup is meant to give your existence the same boost Twitter gives your lunch.
"People love sharing what they are doing on somethign like Twitter," said Rabbi Lowe. "So think of the amazing love they'll generate distilling their whole life. It will engage them in a kind of introspection that can only lead to revelation. Plus we have a business model. Selling ads to Life Insurance and estate planning companies."
some have criticized Liffr for not being useful more than once. They say it lacks so-called 'stickiness.'
But Rabbi Lowe disputes this. "Your life changes from moment to moment." Liffr may only list one post from you, but unlike other social media services, it lets you change that post as your life evolves. Some of our users keep redefining their life every few minutes. That's wonderful!"
Liffr also includes a history of revisions, similar to Google Docs, so people can look back on changes they've made.
"With Liffr, you CAN go back and relive parts of your life. It's transcendent. And for a small fee we'll even let you revert to previous versions. Micropayments are hot right now.
Celebrities have already started using Liffr, the most famous so far being Johnny Depp who's Liffr post simply reads "pain."
July 17, 2008
LOS ANGELES – Alex Smith of West Covina loves his favorite news talk show, except when they talk about news.
"First it was the primary election.  They just wouldn't shut up about it.  Then the housing market.  Now they're back on the election again.  And they never let go of the economy."
Alex has started a protest group to stop the show from conitnuing to talk about the most popular topics of the day.
"There's more going on out there than just elections and economy. Why not talk about bond issues? Or what about traffic problems?"
some analysts point out that the topics Alex proposes may be considered boring by the show's other listeners, but that hasn't deterred the protest from going forward.
"I' sick of hearing about gas prices.  If they talk about gas prices one more time, I'm going to drop them for good. And I'll keep checking to make sure they haven't stopped!"
Meanwhile the show's hosts say they can't talk about things that aren't news, and won't talk about things the majority fo the audience isn't interested in.