August 22, 2005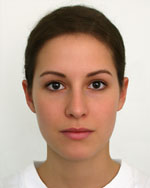 (SAN FRANCISCO) – Hot on the heels of the new Google Desktop release, Google has launched Google Humans.
Google humans are organic algorithmic receptacles that are fully programmable by the user and can adapt to behaviour and preferences.
"It's like living with a psychic," said beta-tester Michael Smithson. "I start to feel hungry and Googella walks in with a fresh-cooked turkey burger. It knows I like TURKEY. Can you believe that? I didn't even know I liked turkey. Wow!"
Critics argue that the Google Humans are an invasion of privacy because they phone back data at the end of every day and also are programmed with advertising.
"I don't want some robot reporting on all my comings and goings," said EFF activist Ray Gregory. "And I certanly don't want to live with a walking commercial machine."
Google representatives reminded everyone that the Google Human is in beta.
"And all data reporting and advertising can be turned off in the preferences," a Google Spokesperosn said before beginning to burn, smoke and chatter about where one could shop for preferences. Google Spokesperson is also in beta.
Leave a Comment